Luminae Spotlight 9+ Levels of Lift | LUMINAE

Sale
Vendor: LUMINAE
Type: Lightener
Sku: 894700002651
Currently there are
people looking at this product
SPOTLIGHT Ultra-LIGHTENER 
SUITABLE FOR: All hair types
BENEFITS 
Up to 9+ levels of lift • Weigh Spotlight Ultra-lightener and Mix 1:2 (Never use 1:1) 
Is best used with 20, 30, or 40 volume Glycerin/Cream Developers 
Foiled Highlights 
Caps 
Ombre 
Balayage 
Foilyage 
Universal Lightening 
Integrated buffers which protect the hair fiber during development for minimized hair breakage 
Dust-free formulation 
Controlled lift 
Stable, creamy consistency prevents product swelling during lightening services 
Creates natural lightening effects 
MIXING 
Weigh Spotlight Ultra-lightener and Mix 1:2 (Never use 1:1) 
Is best used with 20, 30, or 40 volume Glycerin/Cream Developers 
TECHNIQUES: 
Foiled Highlights 
Caps 
Ombre 
Balayage 
Foilyage 
Universal Lightening 
APPLICATION & DEVELOPMENT 
Apply to dry hair 
On-Scalp Application: Developer 10 Vol. or 20 Vol. 
Off-Scalp Application: Developer 30 Vol. or 40 Vol. 
Processing Time: 30-45 minutes 
Additional heat is not recommended (and product should never exceed 104 degrees) 
Visually check progress during development time 
SPOTLIGHT Ultra-LIGHTENER
ADECUADO PARA: Todo tipo de cabello
BENEFICIOS:
Hasta 9+ niveles de aclaración. 
Contiene filtros integrados que protegen la fibra capilar durante el procesamiento para minimizar el daño al cabello. 
Fórmula libre de polvo 
Aclaración controlada 
La consistencia cremosa y estable evita la hinchazón del producto durante servicios de aclaración. 
Crea efectos de aclaración natural.
MEZCLA: 
• Pese SPOTLIGHT Ultra-Lightener y mezcle 1:2 (Nunca use 1:1) 
• Para mejores resultados, usar con Peróxidos de Crema o Glicerina de volumen 20, 30, o 40
TÉCNICAS:
Foiled Highlights 
Caps 
Ombre 
Balayage 
Foilyage 
Aclaramiento universal
APLICACIONES & DESARROLLO 
Aplicar en pelo seco 
Aplicación en Cuero Cabelludo: Peróxido 10 Vol. o 20 Vol. 
Aplicación fuera del Cuero Cabelludo: Peróxido 30 Vol. o 40 Vol. 
Tiempo de procesamiento: 30-45 minutos 
Calor adicional no es recomendado (el producto nunca debe exceder 104

˚F / 40˚C

) 
Compruebe visualmente el progreso durante el tiempo de desarrollo
Warning: This product is intended for professional use only. We advise you not to buy this product unless it is to be applied by a licensed profesional stylist. It can cause serious injury to scalp and damage hair if applied incorrectly.
In-Store Pickup
With this option, you can skip anxiously waiting by your mailbox, and the shipping fees, with free local pickup at our
Houston store:
Salon and Spa Wholesaler
8750 Westpark Dr., Houston, Texas 77063
(713) 532-1111

After placing your order and selecting local pickup at checkout, your order will be prepared and ready for pick up within 24 hours. When your order is ready, we will send you an email along with instructions. Our store hours are 9-5, Monday- Friday. Please have your order confirmation email with you when you arrive.


Shipping
For stylists/salons located in the State of Texas: when shipping to commercial addresses, we charge a flat rate of $9.99 for orders of less than $200. For orders of $200.00 or more, we offer Free "Standard Shipping". Due to the increased price of shipping to residential addresses, there is an additional fee of $4.99 for those addresses Fedex/UPS lists as "residential". (Please note: Salon and Spa Wholesaler has no control over Fedex/UPS determinations as to "residential"/"commercial", any issues with that decision must be taken-up directly with Fedex/UPS.)

For those stylists/salons outside of Texas: we charge you what the shipping company charges us. The charge is based upon weight and location.
Exchanges, Returns & Refunds
Guests returning/exchanging merchandize will receive a prompt and courteous refund/exchange on unopened merchandise within the first 30 days after the original date of purchase.
2. In order to be eligible for exchange/return, merchandise must be returned unused in its original box with original packing materials and must be packed in such a manner that it will not incur damages in return transit. (Open/used items may not be returned.) Any damage to returned products are the sole responsibility of the customer and such damage claims are between the carrier and customer.
3. Equipment and Custom Orders CANNOT be returned for any reason whatsoever.
4. All returns must be approved by Salon & Spa Wholesaler before they are returned and must be accompanied by an RMA number. You may request an RMA number by calling 713-532-1111.
5. The United States Postal Service CANNOT be used for return shipping. FedEx, UPS, or a qualified Freight Carrier must be used after obtaining and getting RMA approval. If the USPS is used as the carrier to return an item, it will be refused and returned to the shipper. Refunds or compensation will NOT be given if policy is not adhered to.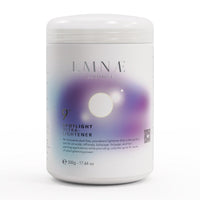 Luminae Spotlight 9+ Levels of Lift | LUMINAE
$50.00